APRIL 14-16, 2023
VENUE: Quinte Sports & Wellness Centre - 265 Cannifton Road, Belleville
2023 Quinte Home & Lifestyle Show Guide
2023 Exhibitor Manual
2023 FLOOR PLANS: | Mackay Arena | Family Dental Centre Arena
EXHIBITOR APPLICATION | LIFESTYLE EXHIBITOR APPLICATION
Quinte Home & Lifestyle Show is proudly sponsored by:
2023 Quinte Home & Lifestyle Show Dates:
APRIL 14-16, 2023
Friday, April 14, Noon - 8 pm,
Saturday, April 15, 10 am - 6 pm,
Sunday, April 16, 10 am - 4 pm.
Location:
Quinte Sports and Wellness Centre
265 Cannifton Road, (Just South of Adam Street)
Belleville, Ontario
Ticket pricing:
Single Day Pass - Adult - $8.00
Single Day Pass - Senior (65+) - $7.00
Weekend Pass - See all three days of the Show for $10.00!
Kids 13 & Under are FREE with a paying adult.
GET YOUR ADVANCE TICKETS ONLINE!
https://www.eventbrite.ca/e/522594533317
*Please note service fees may apply
OR Purchase them at the door!
---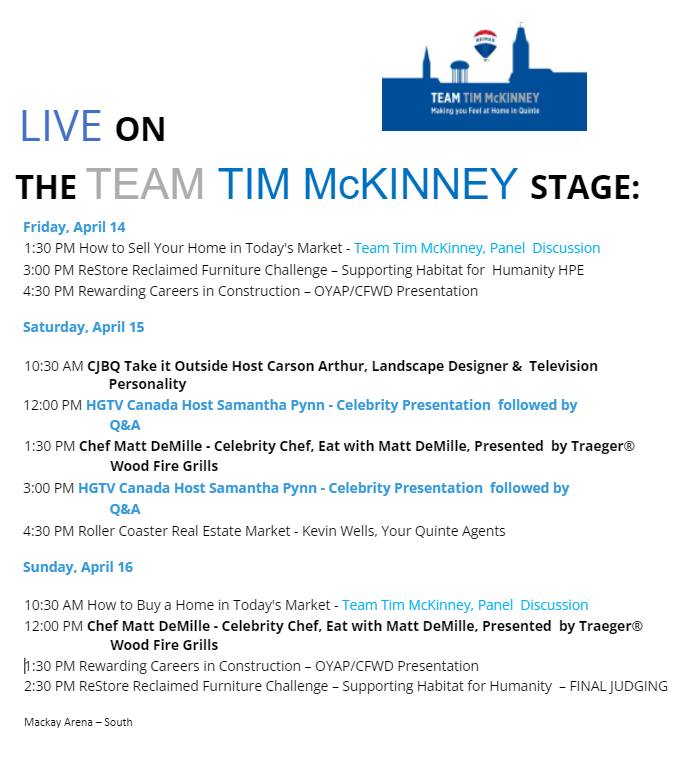 2023 Exhibitor List
TWO ARENAS

Mackay Arena

Family Dental Centre Arena

Booth No.

Exhibitor Name

Booth No.

Exhibitor Name

1-3

Fireplace Specialties

87-95

Backyard Oasis by Picture Perfect

4

Warren & Co. Contracting

96

Meyers Creek Brewing

5/6

Parks Group

97

Paradise Tarts

7

Jesscore Renovations Inc.

99-104

Tri Canadian Energy

8

Mix 97 Rock107 CJBQ

105-107

Bay of Quinte Regional Marketing Board

9

Frontier Homes Quinte

108-109

Ballot Box for Grand Prize Draws

10-12

Team Tim McKinney

109-111

Storage

13

Green Room Staging Area

112

Accent Furniture Refinishing

14

EXHIBITOR SUPPORT

113/114

Habitat for Humanity

15

QHBA

115

Restore Reclaimed Furniture Challenge

16

CHBA/RENOMARK

116/117

Crozier Heating

17/18

D&K Home Services By Enercare

118

HPE Public Health

19/20

Bosiak Construction

119-122

Hot Tub People

21/22

Eastern Design

123

Choice Concrete

23-26

Suncoast Enclosures

124/125

Cabinet Shoppe

27

Loyalist College

126/127

Armour Home Comfort

28

Loyalist College

128/129

EZRides

29

Loyalist College

130

Chambers Food Service

30

OYAP

131

Childrens' Safety Village

31

Centre for Workforce Development

132-142

CSV Jeep Safety Experience

32/33

SprayWorx Ltd

143

We Thrive Wellness

34/35

AGG Contracting

144/145

Belleville Senators

36/37

Ray's Power Equipment

146

Allstate Insurance

38

Quinte Smart Homes

147

Ekort Realty

39

NRG Alternatives

148

Air Barrier

40

Alair Homes

149

Culligan Water

41/42

Ultramar/Sparlings Propane

150

McInroy Basement Systems

43

Maple Bin Service

151

Rydell Roofing

44

Dafoe Roofing/DuraDek

153/154

John Devries Log &Timber Homes

45

The City of Belleville

155

TBD

46

Excalibur HVAC

156

Leaf Filter

47-50

View Tech Windows & Doors

157/158

Reliance Home Comfort

51

95.5 Hits FM Cool 100 InQuinte

159

Burke's Funeral Home by Arbor Memorial

52

TBD

160

SOLD Pending

53/54

Tyendinaga Propane

161

Quinte Ballet School

55

Tyendinaga Propane

162

Anita's Cookies & Cakes

56/57

Dow's ClimateCare

163

Chiropractic Generation

38, 58 & 59

Quinte Smart Homes

164

Fifth Avenue Jewlery

60/61

Ray's Power Equipment

165

Your Haven Home Décor

62-63

Gaylord Hardwood Flooring

166

Intricate Greetings

64-65

Gaylord Hardwood Flooring

167

Merry Maids

67

eXp Realty

168

Hitchons Hearing

68

BProtek

169

Belleville & District Shrine Club

69

Belleville General Hospital Foundation

170

Student Works Painting

70-72

BGHF Camp4Cancer

171

Enrichment Centre for Mental Health

72-74

BGHF Camp4Cancer

172

Food For Thought Quinte

75

Green Room Staging Area

173/174

AQWA Building Solutions

76

Green Room Staging Area

175

Elite Cabinet Works

77-80

Traegar Wood Fire Grills

176

Insight Property Solutions

81

Green Room Staging Area

177

Your Quinte Agents

82-85

The Team Tim McKinney Stage

178/179

Barrett's Internet Solutions

86

Green Room Staging Area

180

Connon Nurseries/

Picture Perfect

KEY

Sponsor

QHBA Certified Member Company
---
General Information:
The Quinte Home Builders Association present the 2023 Quinte Home & Lifestyle Show - April 14-16, 2023. Things have been so unpredictable for all of us, but we are excited to be able to move forward with our Show in 2023 where we will be celebrating 50 Years of QHLS!
The QHBA's roots run deep in the Quinte area. 50 years ago, a small group of builders showcased their work to residents and visitors of the Quinte Region and in doing so, formed our very first Quinte Home Show. The Show outgrew it's original home at the Quinte Mall and eventually moved to the Quinte Sports and Wellness Centre.
Once again, we look forward to bringing you building, renovating, landscape, DIY, design and so much more including lifestyle exhibits and a show stopping Backyard Oasis, featuring Myers Creek Brewing Co. and Paradise Tarts! The Show takes place at the Quinte Sports and Wellness Centre, 265 Cannifton Road in Belleville, on the beautiful Bay of Quinte. Our Show is one of the largest and most professional home shows between Durham Region and Ottawa, and we pride ourselves in bringing you quality, professional exhibitors and top notch celebrity presenters year after year!
This will be a another great year for investing into your home. Whether you are looking to build, renovate, redesign or recreate, our show is All About Home! Bring your questions and get answers from our professionals. From booth visits with our exhibitors, to watching presenters on the The TEAM TIM MCKINNEY Stage, we are here to help you with all of your home projects, inspire your creativity and help you fulfill your dreams. Be prepared to see the latest in innovative products from all aspects of building, renovating, designing, landscaping and so much more!
Parking is included in the cost of admission. All celebrity presenters, seminars and demonstrations are absolutely free with paid admission. The Quinte Home & Lifestyle Show is a must see and it is packed full of inspiration & ideas for your next project.
AND DON'T FORGET - There are thousands of dollars in prizes to be won! Your Show entry ticket is your ballot!
We can't wait to see you at the Show!
2023 QHLS Committee
QHLS APPLICATION
Home & Lifestyle Show
Download